I picked up this sweet Robert Cray Stratocaster on Craiglist yesterday. I had been searching for a hardtail Strat for a while now (coming from the Tele, I'm just not a huge fan of the tremelo). Hardtail Strats are pretty few and far between on eBay and the American ones seemed to be going for a bit more than I wanted to spend. I'm not a huge fan of rosewood necks so I had been considering buying a Cray body off eBay and putting on a maple neck. But then this near-mint Cray popped up on Craigslist for $450 so I went for it.
This guitar is stunning. Pics don't do it justice. I love the Inca Sliver with just a hint of green in it, accentuated by the mint pickguard. The neck is beefy with the 60's "C" shape. You can check out all the specs on the Fender site (and there is also the Robert Cray Signature Series for $5,800). Continue reading…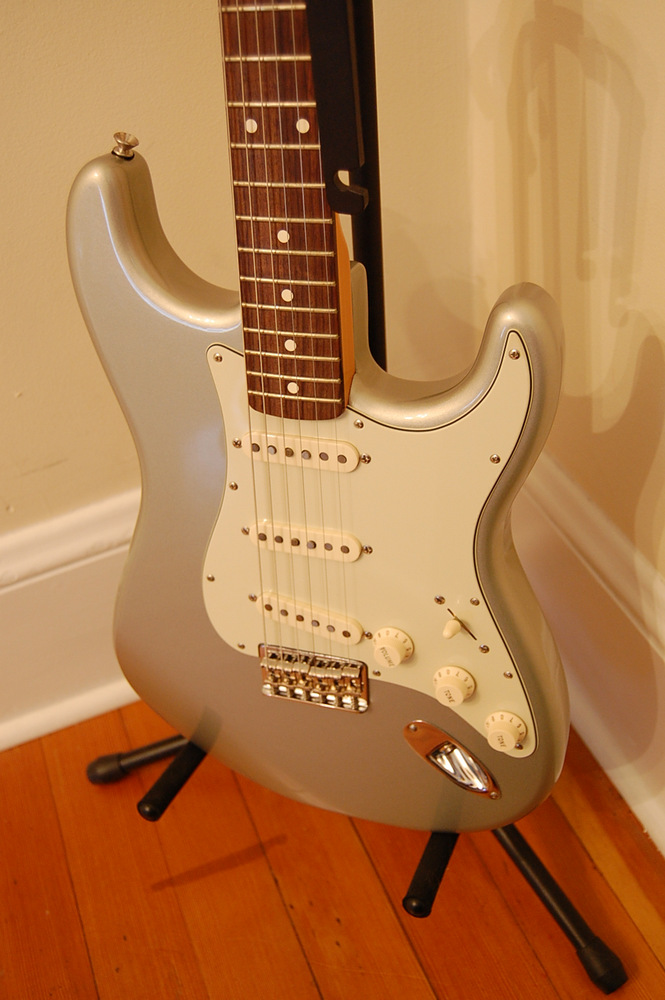 The previous owner bought it new a few years ago with the idea of learning to play guitar but never really got anywhere with it. The serial number on the neck didn't help me determine when it was made, it but it does have a 60th anniversary thingy on the back of the headstock so maybe it was made in 2006?
According to the bathroom scale this thing weighs in at 8.0 pounds even, which feels good to me.
I already swapped out the stock 9s strings for D'addario 10s. I want to lower the action a bit but the bridge seems to take a smaller allen than the bridge on my Blacktop Tele, so I will have to go to the guitar store today.
In terms of sound I already A/B tested it against my 2001 MIM Standard using my Yamaha THR10C and the Cray sounds a tad brighter (probably that hardtail thing). I was actually expecting more of a difference, though. (I A/B tested a new MIM Standard vs a new American Standard with those Fat 50s pups a while ago and was pretty blown away by the difference–Fat 50s are definitely in my future.)
I'll try to do a follow up review in a few weeks or months, but so far I'm pretty excited about this guitar!