I woke up last Saturday wanting a looping pedal. Probably had something to do with the Bill Frisell video and the El Ten Eleven video. As it turned out, I had to give my girlfriend a ride downtown, so I stopped by Guitar Center on the way home. I had only done the most minimal amount of research beforehand: basically I looked at the Digitech and Ditto loopers but decided I'd probably go with the Boss because: 1. I already own a few Boss pedals 2. the others don't take batteries and 3. I didn't know how much I was gonna like it, so it didn't seem like I should spend more.
The guys at Guitar Center didn't do a whole lot to dissuade me. They did show me the Digitech JML2 JamMan but it seemed huge (not to mention it's $250). They also showed me the little Ditto, which looked very cool and appealed to my minimalist sensibilities. But again, no battery–which kind of ruins the minimalist thing. Also, I was starting to like the sound of some of the Boss's features. Let's talk about them more in depth after the jump!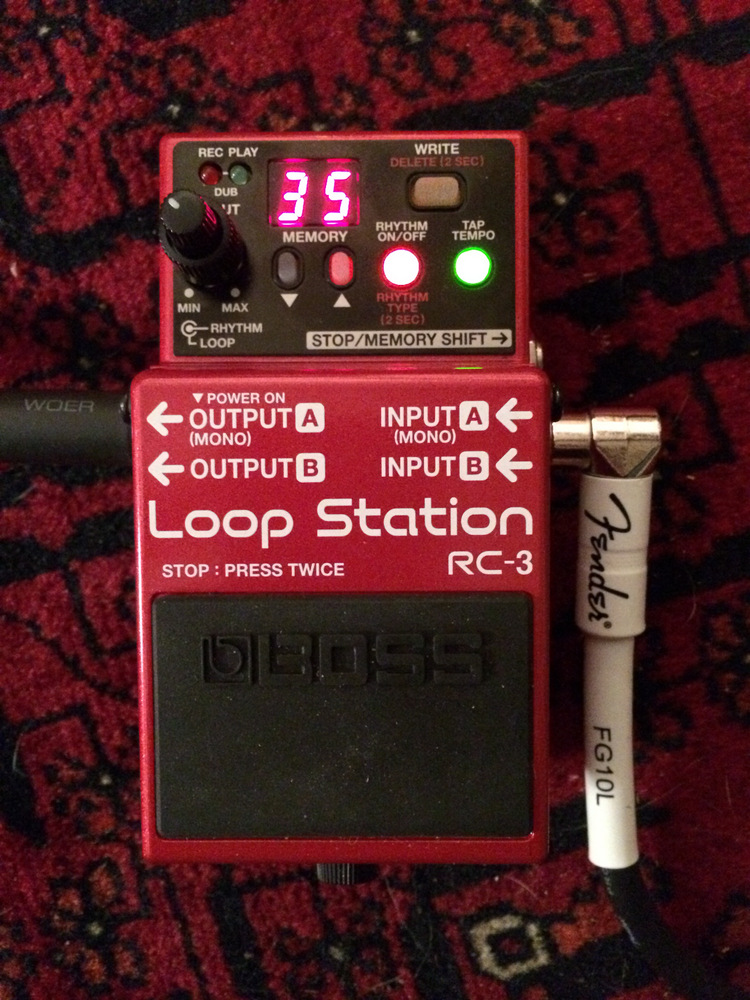 First off the Boss RC-3 has the following:
Up to three hours of stereo recording time
99 onboard memories for storing loops
USB 2.0 port allows you to connect to a PC and import/export WAV audio
Rhythm guide with real drums
Runs on a single 9-volt battery or optional AC power supply
Ok, so I haven't taken full advantage of the first three, but I find I am really liking the rhythm guide. Regarding the batteries, I am using this so much I may eventually break down and get an AC adapter for it.
In terms of usability, I'm finding the big stomp box pedal a bit clumsy for starting and stopping the looping on time (and I'm still not sure I've mastered the "auto record" function). I am wondering if the smaller switches on the Digitech or Ditto would be better. And using the tiny buttons to select the drum beats you want is a bit of a chore. But these are the tradeoffs of having everything in such a small and affordable package.
I think these normally sell for $199 but mine was on sale at Guitar Center for $169. For the first few days I debated returning it to exchange for one of the others, but I'm gonna keep it for a while. If a better looper comes onto the market later, maybe I'll sell it on eBay or something. I got a pretty good conversation going over at TDPRI and folks had some great insights. Check it out.
For some reason mine didn't come with a manual. But you can find it online at Bossus.com
Be sure to check out the demo video below with Dave Weiner!